See on Scoop.it – Rights & Liberties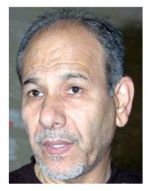 On the morning of 20 March 2011, 60-year-old Younis Ashoori went to Muharraq Maternity Hospital as usual, where he worked as an administrator. Suffering from a migraine and pain from kidney stones, he decided to go home early. Amina, his wife, recalls that he arrived around 11:30 am. Shortly afterwards, he received a call from his boss asking him to come back as there was an urgent need for his assistance.
Despite his pain, Younis, a dedicated worker with nearly 30 years of public service, consented to his boss's request. Saying goodbye to his wife, he drove back to the hospital.
Amina waited anxiously for her husband to return home, but he never did. He still hasn't.
Petition to free Younis Ashoori: http://www.gopetition.com/petitions/free-younis-ashoori.html